Posted by Houston Sympathy Flower Shop on Oct 1st 2019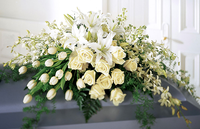 Are you planning to send funeral flowers to a loved one's service, but wonder which funeral floral arrangement is the right one for the current situation? The decision isn't only about price; it's equally as important to know the rules funeral flowers etiquette. There's a set of rules, sympathy flowers etiquette, to guide you when you plan on sending sympathy flowers to the home of a bereaved friend or family member. As a complement to our post Selecting Appropriate Funeral Flower Arrangements, this post will

review both sets of guidelines for selecting funeral floral arrangements and sympathy flowers.
Etiquette, of course, is nothing more than good manners; which Amy Vanderbilt declared as having "much to do with the emotions". An American authority on etiquette, Ms. Vanderbilt further described the importance of emotions: "To make them ring true, one must feel them, not merely exhibit them." Certainly, when you are inspired to send a funeral floral arrangement to the service for a family member or friend, you're responding to your emotions–it's a time when the heart naturally calls out to be heard.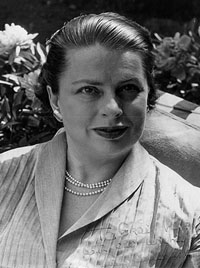 What's the Difference between Funeral and Sympathy Flowers?
It's really a matter of destination: if the flowers are to be delivered to the location of the funeral or memorial, you're talking about "funeral flowers". But, if the floral arrangement or potted plant is to be delivered to the family's home, the subject becomes that of "sympathy flowers".
I never realized most people don't even know the basics of funeral flowers etiquette, until I decided to spend a day asking friends, neighbors–even grocery clerks, people in my workout class and gas station attendants–what they knew about selecting funeral floral arrangements. By and large, the answer was always the same: an admission of ignorance. No one had any idea there even were socially-accepted rules–an etiquette–governing the purchase of sympathy or funeral flowers.
Most of these guidelines have to do with the relationship you share with the deceased during his or her lifetime. In other words, if you were the deceased's husband or wife, you have different funeral floral arrangement options than you'd have if you were merely an acquaintance or co-worker. Here's a self-explanatory chart of the traditional relationship-based guidelines.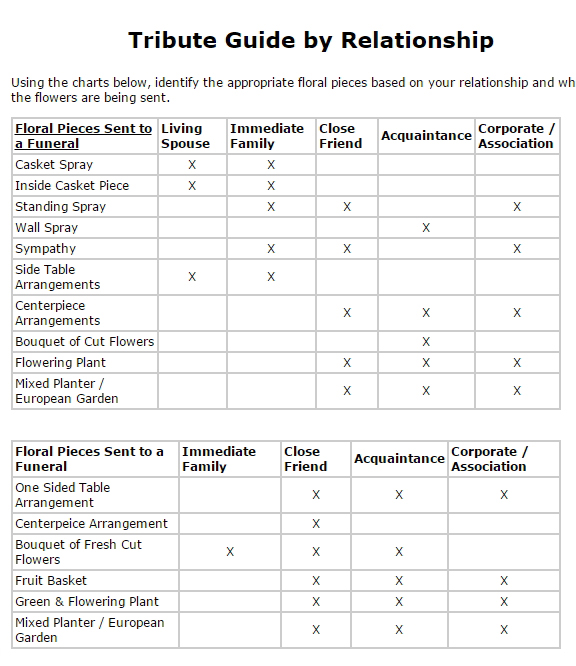 Figure 2 Source: InLieuofFlowers.info
You can see that casket sprays and any inside casket floral decorations should only be purchased by the immediate family members of the deceased (such as the spouse, parents, or children). Close friends can choose from standing sprays, centerpiece arrangements, sympathy flowers, mixed planters or flowering plants. In fact, close friends have many more choices, including fruit and gift baskets (sent to the family home before or after the service) or a simple bouquet of fresh cut flowers.
As ripples in a pond, the circles of closeness go from the most intense (those of immediate family) to the least intense (casual acquaintances to business- and association-related relationships)–and the funeral flowers rules of etiquette follow.
But other guidelines have to do with the religious affiliation of the deceased. Again, if she or he was a Catholic, you'll have different funeral floral arrangement options than you would if the individual was Jewish, Buddhist, or Mormon (see the chart below).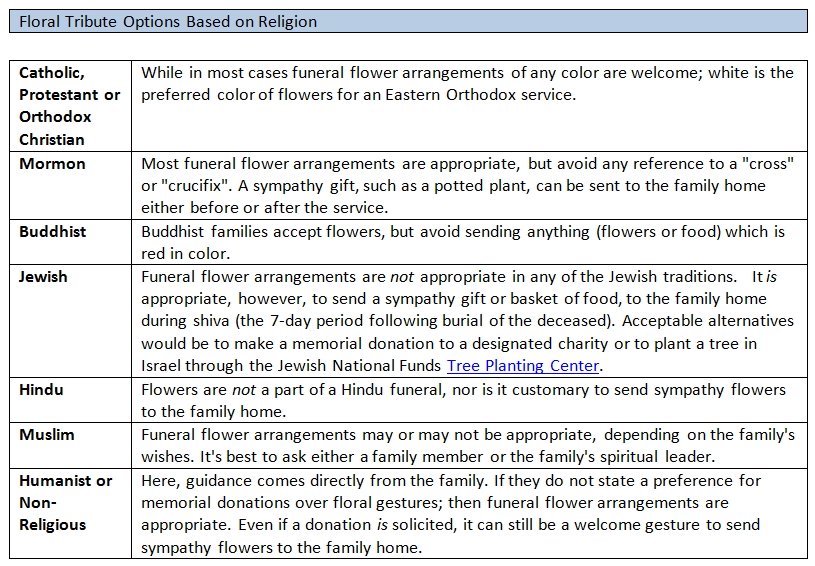 For other insights into funeral and sympathy flowers, I suggest you read our companion blog post, Selecting Appropriate Funeral Flower Arrangements.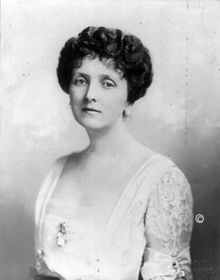 "In Lieu of Flowers": What's the Right Thing to Do?
When it comes to deciding between honoring a family's request for memorial donations "in lieu of flowers"; the website of the Emily Post Institute (which works to preserve the writings and perceptions and recommendations of the well-known 19th and 20th century American authority on etiquette, Emily Post) notes "If the family has included a request for charitable contributions in lieu of flowers, "You may still send flowers in addition." Again, the decisions you'll make regarding memorial donations, funeral flower arrangements and sympathy flowers should be guided not only by the "accepted rules of etiquette" but by your heart.
This is the time to allow your emotions to drive your actions–as long as your goal is to provide comfort while, at the same time, paying tribute to the memory of someone who touched your life.
(If you have any other questions about funeral-related etiquette, be sure to check out the Institute's website for insights and answers. Two articles, Sympathy Notes and Letters and Funeral Etiquette: At the Service may be of special interest to you at this time.
Why Choose Flowers?
Flowers represent the continuity of life, and help lift the spirits of those in mourning. This isn't just my opinion either; recent research has proved flowers create a sense of emotional well-being in those around them. The author of the online article titled "New Research Shows Flowers Help Emotional Well-Being" wrote, "The Harvard study reveals that flowers feed compassion and chase away anxiety and worries. The research participants lived with fresh flowers for just a few days and reported increases in feelings of compassion and kindness for others. Overall, people simply felt less negative after being around flowers."
To learn more about how funeral flower arrangements brighten a service (and how the absence of funeral flowers affects the ceremonial atmosphere), I suggest reading The Powerful Language of Flowers (reprinted with permission from the original publisher, the Texas Funeral Directors Association Magazine). When writing of her aunt's graveside service which featured no funeral flower arrangements, the author, Alice Adams says, "Whatever the reason for my aunt's bare casket, I will never forget that final picture: the boiling sun, cheesy green tent, the burned grass, the blue casket, bare and stark against a pale horizon. And I will never believe that funeral was a satisfactory celebration of my aunt's life. My aunt, a woman of style, determination and class with a deep and abiding love of all things beautiful deserved more on that hot, barren West Texas day."
In short, the experience of a funeral or memorial service–as emotionally difficult as it can be–is softened, and made more bearable–by the presence of specially-chosen funeral flowers. Whenever I'm asked if it's appropriate to send funeral flower arrangements to a service, or a bouquet of sympathy flowers to the home of a grieving family; I'm reminded of the words of American botanist and horticulturalist Luther Burbank: "Flowers always make people better, happier, and more helpful; they are sunshine, food and medicine to the mind."