(832) 850-7677 4416 Fairmont Pkwy #104 Pasadena, TX 77504
Funeral Bouquets
The passing of a friend or family member is one of the most surreal experiences any of us will have to go through. Besides the obvious grief, we are forced to plan things like where company goes, catering and feeding your company, flowers, and so many other important decisions during these hard times.
Funeral Arrangements from a Real Flower Shop
When looking for funeral arrangements, real flower shops are a family's best option. Whether you are a family member suffering from grief, or a close friend looking to support the family, a bouquet of funeral flowers ordered from Sympathy Flower Shop are a symbol of support during these difficult times!
At Sympathy Flower Shop, we take pride in offering beautiful flowers and bouquets to our customers, especially when they are dealing with a personal loss. Our selection of funeral flower arrangements makes the perfect gift for a grieving family. If your family has experienced a personal loss, these funeral bouquets can serve as a beautiful remembrance at the funeral or memorial service.
Large Funeral Flower Selection
The flowers used in our funeral arrangements are guaranteed to be both fresh and beautiful. If you are looking for specific flower types, we have countless options available here at Sympathy Flower Shop. While roses are the most popular and always in high demand, we have seen a recent increase in orders for hydrangeas, calla lilies, stargazers, tulips, and orchids flowers. No matter which flower type you are searching for, we are bound to have multiple color options available.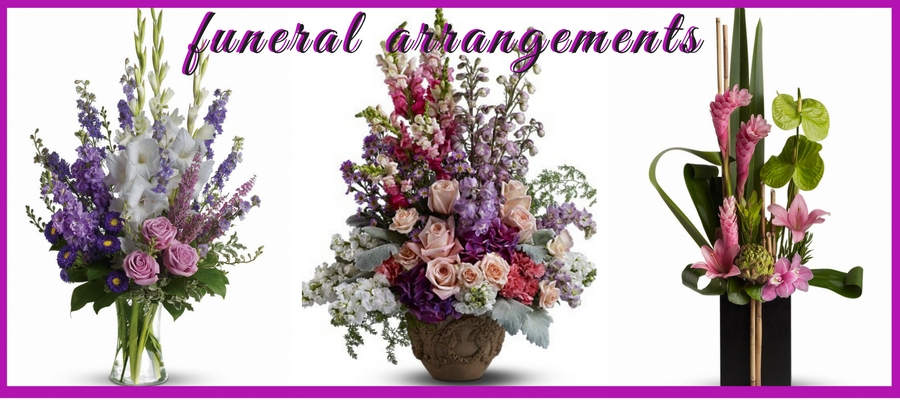 Our selection of funeral flowers is both wide-ranging and guaranteed to impress. Even if you have no experience with flowers, our website allows customers to shop by specific colors. This means you can create a beautiful bouquet without worrying about specific flower types.
Floral Design Options
While the family typically purchases standing sprays and casket flowers for the funeral event, funeral arrangements are meant to be gifts. More importantly, they serve as symbols of hope for a grieving family. At Sympathy Flower Shop, we offer funeral bouquets in a variety of design styles. From hearts to crosses, we have beautiful designs which are guaranteed to satisfy. At Sympathy Flower Shop, we believe that flowers and communion are a part of the healing process, evident by our competitive prices and unwavering customer service!
Additional Ordering Options
Each of our funeral bouquets come in three distinct size options: standard, deluxe and premium. In addition to the bouquet, customers can add an optional caring or spiritual message.
At Sympathy Flower Shop, we understand the importance of flowers during these difficult times. While the death of a friend or family member can be a jarring experience, you can be assured we will do everything in our power to simplify your life during this process! Our professional staff works around the clock to guarantee orders are completed with the utmost customer satisfaction. You can place orders for funeral arrangements online today through our online portal!
Funeral Arrangement Delivery Options
We also offer Free Delivery for all orders placed on our website, no coupon code is needed. Our site allows customers to pick specific delivery dates with ease, meaning you will not have to play guesswork with your funeral bouquet. We even allow customers to select specific delivery times for a small fee.